Speed up your life with
CIS Broadband
Powerful and fast wireless broadband plans for your home or business.
Sign up TODAY!
Get Started Now!


Stream, play and surf with our
Home Plans
Unlimited Data
FREE Email
99.9% Uptime Guarantee
Fast Connections
Dependable Service
Locally Installed Network
Professionally maintained
No Hidden Fees
Get Started Now!


Professional Solutions for Your
Business Needs
Providing scalable, high-speed
solutions to empower your Business!
Get Started Now!
We Have The Perfect Plan For You All service pricing includes taxes and no hidden costs or maintenance fees! CIS HAS NEVER RAISED OUR PRICING! CIS BROADBAND HAS HAD THE SAME PRICING PER TIER SINCE 2005! WE NEVER RAISE OUR PRICES, ONLY OUR SPEEDS!
Basic
6 Mbps Download
2 Mbps Upload
Great for email,
Surfing the Web,
or 1 video stream.
2 E-mail Adresses (optional)



$49.95/mo
Call Now!
Silver
9Mbps Download
2Mbps Upload
Great for muliple devices
Up to 4 E-Mail Adresses
(optional)





$69.95/mo
Call Now!
Gold
12Mbps Download
2Mbps Upload
Recommended for 4+ users
Recommended for Online Gaming
2+ Streams at once
Up to 6 E-mail Adresses (optional)



$89.95/mo
Call Now!
Installs starting at $99
Faster Speeds Coming Soon!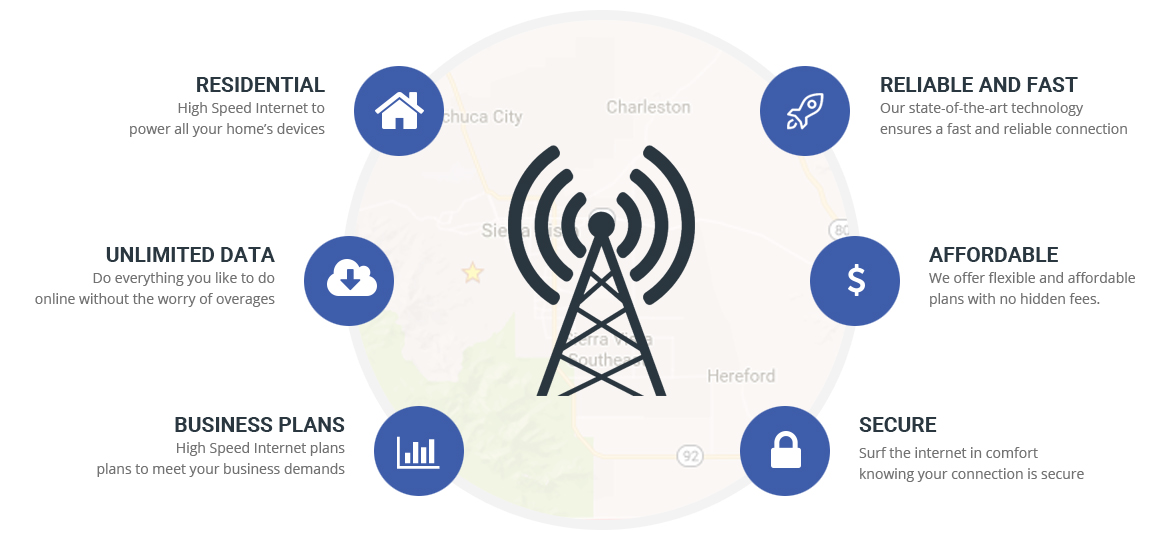 Bringing High-Speed Internet to COCHISE COUNTY SINCE 2005
CIS Wireless Broadband Advantages
Reliable internet in rural areas with no caps!
Super-low latency network, perfect for VoIP and Video Calls.
Great prices starting at just $49.95 a month.
CIS Wireless Broadband How it Works
CIS Wireless Broadband transmits information via a radio signal from an Internet-connected tower or a tall building (known as an Access Point) to a receiver on the roof of the customer's home or business. The information then travels through a cable to a CIS router, then to your devices. Information you send goes through your network and back to the receiver on your roof, which transmits the signal back to the Access Point and to the Internet.
Serving Cochise County for 15+ Years!
CIS is proud to be the leader of Wireless Internet in Cochise County
We Are Here to help get
you started.
Faster, more reliable internet is just a call away.

Get Started Now!
Scroll